Breakthrough mindset to end addiction, weakness and fear
Breakthrough mindset to end addiction, weakness and fear
Breakthrough mindset to end addiction, weakness and fear
Commit to Healing Start Fasting
My body healed over the course of 5 years of consistent fasting. At age 50 I have more energy, more clarity, and more spiritual connection than I have ever had in my entire life! 
Empowering You to Level-Up To The Divine Force, Resonating Love, GOD that You Are Meant To Be!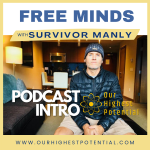 Free Minds Podcast Intro

Aug 3, 2021 • 7:03

In this podcast introduction Chris makes a compelling appeal to self love and caring for your body to live an empowered life to our highest potential.
Freedom is gained through health
Without that, the rest does not matter because your quality of life drops, and sometimes to the point where others have to take care of you. We have all seen it.
WE are all breatharians, that were trained to be addicted to "nutrition" through fear and the coercion of the fearful…
(yeah, your parents)
True healing occurs when we go through the process of shedding all ingestion addictions. This means to fast of all intake, to allow the body to do what it was designed to do, free from hindrance.
I speak from personal experience because it is what I have done.
My mission is to show you how to do the same… 
"I see you as an inspiration brother. You prove to everyone we don't need as much food as we've been brainwashed to believe. I've fasted more often since reading your posts. Thanks for your knowledge. My health is in my own hands."
"You are so motivating and encouraging. I'm looking forward to doing some extended fasts and complete lifestyle change after the holidays! Actually both me and my husband. We are committed. Thanks for all your wisdom. You're helping so many people ❤️"
"He guided and supported me during my UT and dry fast. His passion for life, freedom and spreading the truth is unmatched. Definitely destined to achieve great things. If you are ready to unlock your potential, Chris can help you locate your key - which is inside of you."
"Because of you Chris M Manly I discovered UT, got the Armstrong water of life book PDF and started doing UT and will! Thank you!"
"Wow so inspiring. I personally don't feel drawn to breatharianism. But as an open minded person it do find it fascinating. I wanna make it to being liquidarian. Just drinking my own water and fruit juice. And some distilled water here and there. Thanks for sharing your inspiring stories Christo. As an athlete it fascinates me like crazy and gives me lots of willpower to climb out of this hell of divorcing from cooked foods and even solid fruits. Thanks!!!"
"If you want intuitive coaching and trust that comes from a place of experience and wisdom, Chris is your man! Any worry or limiting belief that you might have, he smashes them just by talking to you! And even if you are not saying or forgeting something that's important to say, Chris has a way of knowing what to, how to and when to talk in a way that's inspiring. "The best investment you can do is in yourself!" Thank you brother! 🙏"
Our Highest Potential Newsletter